Chairman's Speech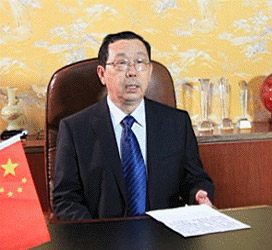 2014 was a milestone year for Hengshun Zhongsheng, because the construction of Sulawesi Ferronickel Industrial Park in Indonesia was officially commenced in that year, after three years of exploration and preparation since 2011, which led to a substantial increase in domestic business. What's more, Hengshun Zhongsheng Group Co., Ltd. was also organized in that year, realizing the strategic transformation to internationalization, business diversity and platform production.

Early in 2015, Premier Li Keqiang met with Indonesian President Joko who was in China for a state visit. Later, they both attended Indonesia-China Economic Cooperation Forum held at the Great Hall of the People in Beijing. The Group was the only Qingdao private enterprise that has signed a contract on the forum. The signed industrial park project in Indonesia has been listed among "state-level industrial parks". It has begun to take shape and become the most successful industrial park in Indonesia so far.

In July 2015, Vice President Emerson Mnangagwa of Zimbabwe visited Hengshun Zhongsheng and signed the Memorandum of Understanding on Zimbabwean Special Economic Zone and Industrial Park Project with Hengshun Zhongsheng, Qingdao municipal government, China Development Bank, China Railway Eryuan Engineering Group Co., Ltd. and Qingdao City Construction Investment Group. This means that both the overseas industrial park investment model and the strength of the Group have earned recognition. Under the guidance of national strategy of One Belt and One Road, we will draw lessons from failures and bring the successful investment model in Indonesia to Zimbabwe and other southern African countries.

Every achievement comes from hard work. Hengshun Zhongsheng cannot make those achievements without the correct leadership of the municipal party committee and government, strong support from shareholders, care from all sectors of the society, and the wisdom and dedication of all Hengshun Zhongsheng employees. Let me take this opportunity to pay tribute and express my sincere gratitude to you for your great efforts!

What is done can never be undone. Those who march forward courageously and overcome all difficulties will be the final winners. We will open a new chapter of Hengshun Zhongsheng by building it into an enterprise featuring diversified businesses such as green power grid, power construction, operation of mines, industrial park development, concessions and financial investment and holdings with determination, courage and pragmatic attitude.